Over 8% Rental Yield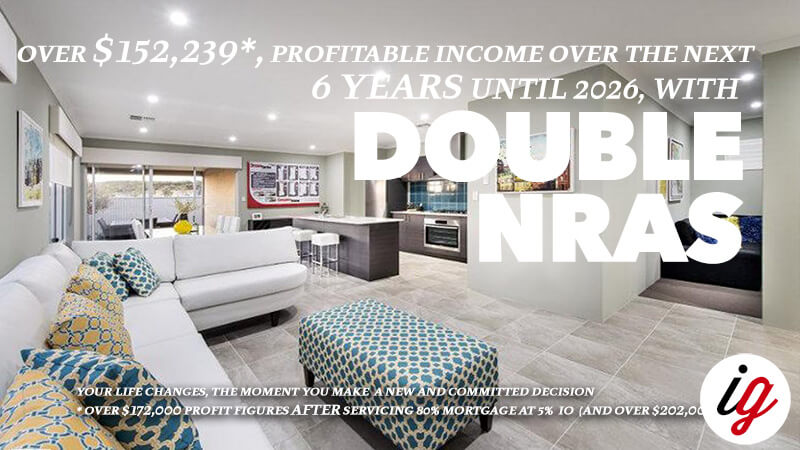 Property Overview
| | |
| --- | --- |
| Category | house |
| Market price | $548,000 |
| Market rent | $535 p/wk (Less NRAS discount) |
| Yield | 5.10% |
| NRAS contribution | $22,570 (DOUBLE NRAS) |
| Yield inc. NRAS | 8.14% |
| Bedrooms | 4 |
| Bathrooms | 3 |
| Carports | 2 |
| Garages | |
| Address | 32,Janselling Avenue |
| Suburb | Ellenbrook |
| State | WA |
| Postcode | 6069 |
Expression of interest
Fill in the form below to get more information about this property.
6 MORE YEARS OF DOUBLE NRAS TO 2026
$44,796 rental income to slingshot your rental returns into the stratosphere
Double NRAS (
*
$22,540 pa 2020-21), Double Income Property. These double NRAS properties balloon your household income and cashflow to dizzying heights.
$44,796 is $3,733 rental income per month. ($861 per week).
Well, as an investor looking to put money into property with the expectation of achieving a profit, the numbers are emphatic. (
Register your interest above.
) Looking beyond the numbers, the key to long term property success is invariably the desirability to live in the area as a tenant (Since they'll be paying the bills).
So, let's quickly unpack that here.
A free standing home created as a dual occupancy property on a land parcel of 459 m² in the Ellenbrook community.
Perfectly positioned 10 minutes from the Swan Valley and just 30 minutes from Perth, Ellenbrook is an award-winning master-planned community connected to a huge range of established facilities, amenities and services.
Connected to it all and built around a bustling town centre, Ellenbrook provides easy access to a local shopping centre, supermarkets, specialty stores, cafés, restaurants, bars, schools, medical services, recreational areas and 155 hectares of parklands.
At just half an hour from Perth, Ellenbrook is far enough away to be a haven, yet close enough to be in easy reach of almost everything you or your tenants will need.
The town and the surrounding eight villages are all designed so a quality lifestyle is within reach of everyone, no matter what your budget or stage of life. It's won more awards than any other new town, including being named the best master-planned community in the world.
In our vibrant town centre you'll find plenty of shopping, eating and entertainment, whilst a short drive will get you to Morley Galleria, Midland Gate Shopping Centre, Lakeside Joondalup. And of course, there's the beautiful Swan Valley, golfing at The Vines and acres of parkland at Whiteman Park.
Property Ownership in Ellenbrook
13.1% Fully Owned
63.1% Owned with Mortgage
23.5% Rented
The figures present a significant and healthy area property ownership split, as typically where an area has the majority of its property with owner occupiers, the areas performs wel.l. With owners being house proud, there is less transience and communities form, resulting in well maintained areas and property values remain robust.
Register your interest in the form above.
Call 1300 67 27 28 to find out more or quickly register now on this page and we will contact you to talk about your investment objectives to refine what may best suit your personal circumstances.